Since November 2014, EuroPainClinics® has been supervising medical care provided by the Terasa outpatient clinic in Košice. The experts here specialize in specific endoscopic minimally invasive procedures in the spinal canal and on the intervertebral discs. The procedures require minimal hospitalization and are performed on a one-day-surgery basis. The facility in Košice meets the standards of modern clinics in Western Europe, possessing an excellently equipped operating room for such procedures and first-rate devices (such as laser, radiofrequency machine or several types of endoscopes).
Consulting hours
---
Kosice is the biggest city in eastern Slovakia and in 2013 was the European Capital of Culture together with Marseille, France. It is situated on the river Hornád at the eastern reaches of the Slovak Ore Mountains, near the border with Hungary. With a population of approximately 240,000, Košice is the second largest city in Slovakia after the capital Bratislava.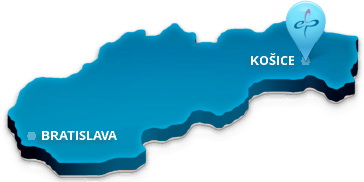 Being the economic and cultural centre of eastern Slovakia, Košice is the seat of the Košice Region and Košice Self-governing Region, the Slovak Constitutional Court, three universities, various dioceses, and many museums, galleries, and theatres. Košice is an important industrial centre of Slovakia, and the U.S. Steel Košice steel mill is the largest employer in the city. The town has extensive railway connections and an international airport.
---
EPC Partner's Clinics